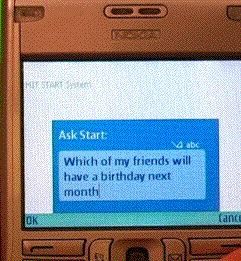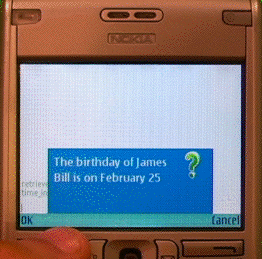 Figure 1: StartMobile responding to a user's request by performing a search over its contacts database.
Progress
We are continuing to add new capabilities to the StartMobile system. These capabilities will enable the system to access and manipulate information on the user's mobile device and on central servers, to interact with other mobile devices, to vary its behavior by exploiting contextual information, and to control the execution of additional actions on mobile devices and central servers.
Support
This work is supported in part by the Nokia Corporation as part of the Nokia/MIT Lablet initiative.
References:
[1] Boris Katz. Using English for Indexing and Retrieving. In Artificial Intelligence at MIT: Expanding Frontiers, v. 1; Cambridge, MA, 1990.
[2] Boris Katz. Annotating the World Wide Web Using Natural Language. In Proceedings of the 5th RIAO Conference on Computer Assisted Information Searching on the Internet (RIAO '97), Montreal, Canada, 1997.




Computer Science and Artificial Intelligence Laboratory (CSAIL)
The Stata Center, Building 32 - 32 Vassar Street - Cambridge, MA 02139 - USA
tel:+1-617-253-0073 - publications@csail.mit.edu